Clearwater, Florida
• 13. desember 2018
Rehabilitation is Possible with Criminon, Inmates Claim

The Florida chapter of Criminon, an international non-profit organization dedicated to rehabilitating criminals through a secular education program based on the works of L. Ron Hubbard, held its last graduation for 2018 on December 8th at the Manatee County Correctional Institution. Twenty-four inmates completed the first in the series of Criminon courses, The Way to Happiness, a non-religious, non-political, commonsense guide to better living. The graduation marked the seventh graduation this year and capped a total of 1,445 inmates helped in the 120 Florida prisons where the program is being delivered through correspondence courses and on-site delivery.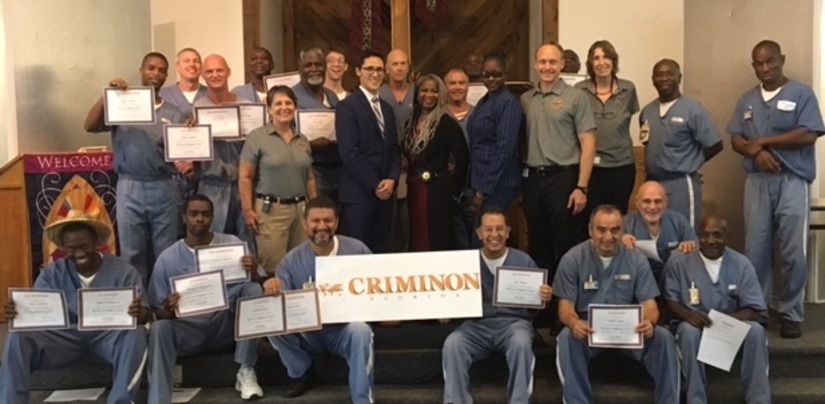 At the Everglades Correctional Institution graduation in August, over one hundred guests saw 20 inmates receive their Criminon certificates for the completion of a course. There wasn't a dry eye in the room when the inmates shared their experiences and life-changing successes. One example was "Billy", who was imprisoned in 1991 for first degree murder and who lived a miserable life in his prison cell until 2014 where he started in the Criminon correspondence courses. The program, he said, changed his life forever, "I can honestly say that if Criminon was delivered every day to inmates, everything would be much better and that would be it! … Rehabilitation is possible!"
With the Florida Department of Corrections using only 3.5% of its budget on educational programs and an increasing inmate population of over 96,000, Criminon is filling an important gap in actually rehabilitating offenders. Through free correspondence courses that any inmate can do, even "lifers" like Billy have new hope.
"It's all about helping them regain their self-respect," stated Francisco Leyton, the Executive Director of Criminon Florida. "Criminon's educational programs are pivotal in stopping the revolving door of criminality."
Criminon's motto is taken from The Way to Happiness by L. Ron Hubbard in which he writes, "There is no person alive who cannot make a new beginning."
Besides The Way to Happiness, the Criminon Program also provides the following courses: Learning Improvement Course; Truth About Drugs; Personal Integrity; How to Handle Suppression; How to Handle Conditions in Life; Parenting Skills; and Understanding and Overcoming Addiction.
For more information, call 727-467-6963 for Criminon Florida, headquartered at 45 North Fort Harrison, downtown Clearwater. Criminon Florida is open to the public from 10 am to 10 pm daily with interactive displays outlining Criminon's 50-year history, a seminar room, a conference room and offices for volunteers. Relatives of inmates can have their relatives request the program sending a letter to PO Box 2396 at Clearwater, FL, 33757-9804.
About Criminon:
Criminon is an international non-profit organization dedicated to rehabilitating criminals through a secular educational program based on the works of made by Author, Humanitarian and Philanthropist L. Ron Hubbard who once said: "A criminal career always begins at the moment when the criminal-to-be loses his self-respect". And that is what Criminon addresses with its program. Thanks to the sponsorship of the Church of Scientology, Criminon has gotten 23,000 inmates through the program in 23 different countries across the globe. For more information contact: info@criminonfl.org.